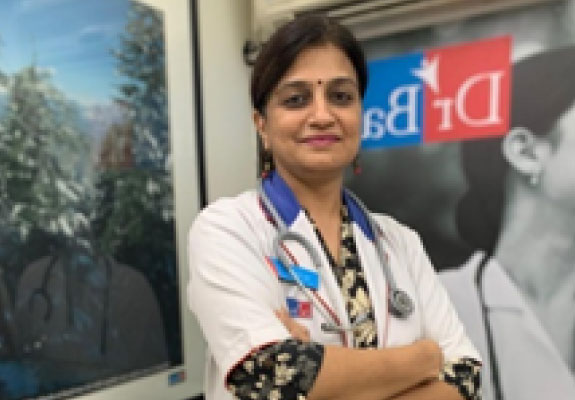 DR. SWATI KULKARNI
BHMS, DIPLOMA IN HOSPITAL ADMINISTRATION, CERTIFICATE IN MENTAL HEALTH MANAGEMENT
MEDICAL EXPERIENCE: 23 YEARS
SPECIALISATION: HAIR FALL, HAIR REGROWTH, HAIR LOSS, ALOPECIA AREATA, MALE PATTERN BALDNESS, FEMALE PATTERN BALDNESS
Dr. Swati Deepak Kulkarni is working with Dr Batra's™ as the Head of Medical Services at our Secunderabad, Telangana clinic. A senior homeopath, Dr. Swati has also completed a Diploma course in Hospital Administration and a Certificate course in Mental Health Management. Over 25,346 patients have been successfully treated by her so far, out of which around 13,728 patients were for hair loss and around 5360 patients were for skin disorders. Dr. Swati also specializes in treating several other acute as well as chronic ailments like allergic rhinitis, asthma, piles, migraine, arthritis and child health issues, amongst others
About HAIR CLINIC IN SECUNDERABAD, TELANGANA
In our clinic in Secunderabad, Telangana, the team of expert doctors has treated over 20,512 patients suffering from hair problems. There are 40 different reasons for hair loss ranging from genetics to hormonal changes and stress. The doctors at the hair clinic collect a detailed case history including details about the patient's lifestyle, stress level, work life, emotional triggers, etc. in order to identify the root cause behind the hair loss. This is instrumental in putting together a suitable hair treatment plan.
Hair Loss

Skin Disorders

PCOS

Child Health

Allergy

Thyroid Disorder

Depression

Stress Management

Sexual health

Women`s health

Obesity

Other Ailments
Positive Results
Before

After

Before

After

Before

After
Patients Speak
Anitha ReddyI have got very good results for my hair loss treatment at Dr Batra's. The quality of my hair is also better than before. The best thing is that homeopathic medicines have no side effects. So in my opinion they are the best homeopathy clinic.
Raman ShettyDr Batra's homeopathic clinic cured my dandruff problem permanently. Highly recommend dr batra's homeopathy treatment to others.
Prasad VanapalliMy father is suffering from male pattern baldness. Our neighbour regularly takes treatment from Dr Batra's and he advised my father to just go there once. My father was so glad he went because the homeopathic medicine for hair fall helped control his hair loss a lot. The homeopathic doctor also suggested some simple lifestyle changes that improved hair growth and also improved his overall health.
WHAT TO EXPECT DURING YOUR HAIR CONSULTATION AT DR BATRA'S™?
Medical Assessment: At your first consultation, our doctor will spend about 30-45 minutes understanding your case history. This is important for us to understand the root cause of your hair loss and the extent of your condition.
Scientific Assessment: Our doctor will conduct a scalp analysis through a video microscopy test (https://www.drbatras.com/hair-loss/diagnosis) which magnifies your scalp up to 200 times. This helps the doctor identify the extent of the problem as well as the degree of miniaturization of the hair follicles.
Genetic Assessment: Geno Homeopathy (https://www.drbatras.com/geno-homeopathy/overview) is a revolutionary, scientific, safe and precise gene-targeted homeopathic therapy. This test helps to identify the strength of the hair loss gene, predicts the probability of going bald and identifies the possible genetic factors that can cause hair loss. Since Geno Homeopathy is based on your unique genetic predisposition, it is the most individualized and customized hair growth treatment for you.
Answering queries: Once the assessment of the problem is completed, our expert doctors will then answer any questions you might have. We suggest you write down your queries beforehand so that you can ask the doctor about them.
Treatment plan: Based on your diagnosis, age, extent of hair loss and your expectations from the treatment, our doctors will put together a customized hair growth treatment plan for you.
Dr Batra`s™ follows an integrated approach for hair regrowth. It combines homeopathic medicines, nutritional supplements and aesthetic treatments to bring the best treatment results. While homeopathy forms the core of hair regrowth treatment, it can be supplemented by various other treatment options to enhance hair regrowth as listed below:
Dr Batra's™ Hair Care: Combining these natural and safe products with homeopathic hair regrowth treatment can assure you of the best results.
Dr Batra's™ brings a wide range of products formulated by Trichologists.
These are natural and safe products that control hair fall and boost hair growth.
The products are enriched with the benefits of natural plant extracts for healthy hair.
DrBatra's™ Homeopathy
Homeopathy is a natural, safe and effective medium for hair regrowth.
Homeopathic hair growth remedies are selected and customised based on your medical history.
Hair regrowth medicine in homeopathy targets the root cause of hair fall, which slows down hair loss and promotes hair regrowth.
It effectively treats the underlying causes of hair loss such as nutritional deficiencies, hormonal imbalances, low immunity and so on.
The treatment is safe and easy to follow. There is no fear of side-effects when it comes to homeopathic hair growth remedies.
Minimal dietary restrictions may be involved, if deemed necessary.
96.6% of the patients are satisfied with our homeopathic hair loss treatments, as authenticated by American Quality Assessors.
DrBatra's™ GenoHomeopathy
It is a revolutionary, scientific, safe and precise gene-targeted homeopathic therapy.
It gives 99.9% accurate test results.
It can predict hereditary hair loss. Hence, it can be instrumental in determining the most suitable hair regrowth treatment for you.
This homeopathic therapy can give long-term results.
DrBatra's™ STMcell
It is the latest revolutionary hair treatment brought to India by Dr Batra's™.
The therapy uses a South Korean innovation that works on stem cells to promote hair regrowth.
This hair treatment involves minimal or no pain.
It restores cellular multiplication and cellular growth by improving the blood circulation.
This technique restores hair follicles to their original size and minimises hair thinning.
You can see visible results in 6 weeks without any side-effects.
This technique has an 88% success rate as authenticated by American Quality Assessors.
DrBatra's™ groHAIR
groHAIR uses a French technology based on a Nobel Prize-winning discovery.
It is the first non-invasive hair treatment therapy in India.
This technique stimulates hair regrowth without any side-effects.
It improves hair volume and strengthens the hair.
You can see visible results in 5 weeks.
This technique has a 77% success rate as authenticated by American Quality Assessors.
DrBatra's™ Hair Vitalizing Treatment
It is a US-FDA approved hair therapy that can aid in hair growth treatment.
It stimulates hair regrowth and reduces hair breakage.
You can see visible results in 5 weeks without any side-effects.
This technique has a 90% success rate as authenticated by American Quality Assessors.
DrBatra's™ Hair Transplant
Dr Batra's™ Hair Transplant reverses baldness and restores your natural hairline.
The procedure is carried out by internationally trained surgeons.
It employs international techniques of FUE & FUT.
It is a trusted and scientific approach.
DrBatra's™ Instant Hair
Dr Batra's™ Instant Hair contains artificial microfibres that give an appearance of a full head of hair.
It covers bald patches in just 30 seconds.
It gives an appearance of natural-looking hair that will last until the next wash.
It is non-toxic and free of side-effects.
It is resistant to wind, rain and perspiration.
DrBatra's™ Quik Hair
Dr Batra's™ Quik Hair is a revolutionary hair system.
They are toupees & wigs of international quality made from natural hair.
It can give an appearance of a head full of hair instantly.
Homeopath
Dermatologist
Homeopathic Pharmacy
Hair Transplantation Clinic
Skin Care Clinic
SP Road cnr SD & MG Rds Kingsway MG Road Picket Begumpet Police lines
Hair Fall Treatment
Hair Specialist Near Me
Treatment Of Hair
Dandruff Treatment
Hair Loss Treatment
Hair Fall Solution
Hair Doctor Near Me
Hair Doctors
Trichologist Near Me
Hair Clinic Near Me
Hair Specialist Doctor Near Me
Hair Clinic
Hair Fall Doctor Near Me
Hair Loss Treatment Near Me
Hair Loss Doctor Near Me
Hair Loss Specialist Near Me
Treatment for Alopecia
Hair Treatment for Women
Alopecia Areata Treatment
Female Hair Loss Treatments
Male Pattern Baldness Cure
Male Pattern Baldness Treatment
Hair Loss Treatment for Women
Alopecia Treatment In Homeopathy
Female Pattern Baldness Treatment
Alopecia Doctor Near Me
Best Hair Loss Treatment for Women
Hair Specialist In Hyderabad
Hair Specialist Doctor In Hyderabad
Trichologist In Hyderabad
Best Hair Specialist Doctor In Hyderabad
Best Hair Specialist In Hyderabad
Hair Specialist In Telangana
Hair Specialist Doctor In Telangana
Hair Fall Specialist In Telangana
Best Hair Specialist Doctor In Telangana
Best Hair Dermatologist In Telangana